Finally! A Neat, Thorough, Professional Painting Job... or Your Paint Is 100% FREE!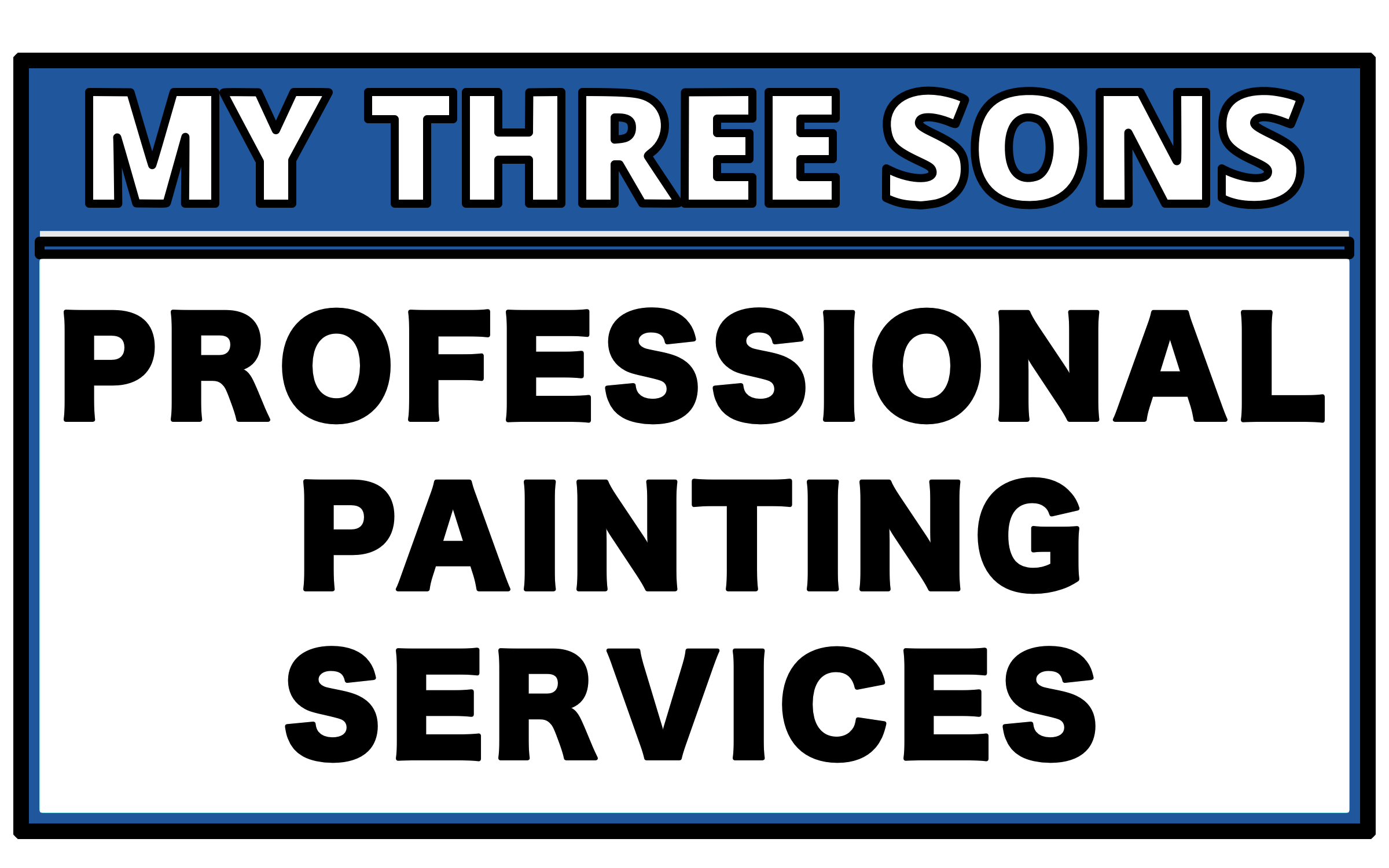 Call 859-321-7344 For Your Quote!
Mary Queen Church just had My Three Sons repaint its sanctuary and gathering area. It had been 23 years since the facility had been built and it needed a full facelift. There were numerous "prep" areas that Bryan took special care to repair. The professionalism and quality of the work by Keith and his staff were exemplary. With a Church, there are many unforeseen bumps in the road as it deals with scheduling and conflicts. Keith was the ultimate professional in dealing with each problem. Our sanctuary looks beautiful with the fresh paint. I would highly recommend My Three Sons to you as your painting contractor.

Walter Leachman, Business Manager, Mary Queen of the Holy Rosary Church
Lexington

My Three Sons Painting crew have finished painting our two-story 115-year-old house---and it looks fantastic! Your painting crew, Chris and David, are obviously professionals and are very pleasant, polite, upbeat and easy to work with. They paid particular attention to detail, had thoughtful suggestions & included extra things we hadn't thought of or didn't expect. They amiably and time efficiently worked around our daily activities through all stages of the project---prepping, details, painting and clean-up. 

Our finished house looks fabulous! We couldn't be more pleased! We will happily recommend My Three Sons Painting to anyone looking for an outstanding, professional and reliable painting company to work with!

My Three Sons Painting never lets us down. We recently had our kitchen cabinets redone. They took so much time preparing them before painting and it shows. They turned out beautiful!! This was not the first time we have hired My Three Sons Painting and it definitely won't be the last!

Matt and Leigh Wells
Nicholasville

I just had four rooms painted by My Three Sons and they did an incredible job. Quick, neat, careful, well organized, conscientious, polite, always on time, and they did a beautiful job. I've never had a better experience with painters and have never had a project look so good. Travis, the crew leader, was always professional and a real pleasure to work with, the kind of person I was happy to trust with my home. Though they didn't submit the lowest bid, their price was very fair and very competitive and their thoroughness in assessing the job and preparing their estimate was impressive, head and shoulders above any of the others I called. It made it easy to choose them for the job. Keith, the owner, even helped pick out the colors.

Gary and Diane Gaffield
Lexington

Professional all the way! The crew's appearance, conduct, painting skills, equipment all top notch; did what they said they would do and in the time frame. Would definitely use them again!

Roger Woolums
Wilmore

We've used Keith and his team several times over the past two years and have been nothing but impressed. Whether painting indoor or outdoor, My Three Sons Painting offers a level of professionalism and reliability that is hard to come by. We will continue to use them for years to come.

Jennifer Buntin
Palomar, Lexington

It is a pleasure for us to say this company did an amazing job on our project. Their capabilities far outweigh anything I could ever say about the quality of work performed. I highly recommend this company for any job no matter the size of the project.

Allen and LoJean Varney
Tuscany, Hamburg

I cannot say enough good things about My Three Sons Professional Painting Services. Keith Zafren and his crew did such an outstanding job for me that they will be my first call for any future projects I may have.

Donald Clemens
Lexington
The service and quality of workmanship was excellent. They arrived when they said they would. They corrected minor blemishes / imperfections in the surfaces to be painted WITHOUT BEING ASKED TO. They took great care to cover unpainted surfaces. The room looks great. If I have another painting project I will call them for sure.

Jeff Meixelsperger
Barkley Estates, Nicholasville

 

My Three Sons Painting did an excellent job refinishing our front doors. After nine years, our doors were very weathered. Keith's men were very meticulous and did an outstanding job. Everything was completely cleaned up at the end of the day. The doors look brand new. Keith was very professional and communicated continuously during the project. Truly, an outstanding company that I highly recommend.

Mike and Mary Lou Anderson
Tuscany, Hamburg

 

Keith and his team were an absolute pleasure to work with. I had a two story entryway and hallway painted by them, and they absolutely exceeded my expectations. It ended up turning out so beautifully, I asked them to do another room! They were able to get it done the next day which i greatly appreciated. The men who did the painting even fixed mistakes on the ceiling that they did not make, which speaks to the pride they take in their work. On top of doing a beautiul job, I also felt comfortable with them in my home. They were kind, respectful, great with my pets (two large dogs), and very clean. Each day they left my house cleaner than how they found it.

I also changed my mind on the paint color the morning that they were due to start, something which understandably could have been very frustrating, but Keith was extremely accommodating. He gave me an honest opinion when asked for and called his contact at the paint store to have the colors adjusted quickly so the job could start on time. I will be using them in the future and recommend them to anyone who asks. My experience with My Three Sons Painting was by far the best experience I've ever had with a contractor, I feel blessed to have found them!

Kayla Minton
Lexington

 

Keith Zafren and his company, My Three Sons Professional Painting, is a first class experience from start to finish. From his concise and professional initial proposal, to his impeccable attention to detail as he transformed my home, to leaving my home as sparkling clean as it was when he arrived, I would highly recommend Keith Zafren for any of your painting needs. Long after the project was completed, each evening as I relax in my beautiful home and enjoy the environment he helped me to create with his artistry, I am very grateful that I hired the best. The lines are crisp, the colors are gorgeous, and there is seriously not one mistake anywhere – and I would know, I look at it every single day! I have never experienced a more professional or competent contractor in my home, and I will never hire anyone else again. Thank you, Keith Zafren, for the stunning transformation you made to my space.

Dr. Friesen
Lexington

 

Last November, I hired Keith Zafren's company, My Three Sons Professional Painting, to apply an elastomeric coating to my badly weathered deck. Keith assured me this product would last 5-7 years. Well, after only 8 months, my deck looked terrible. The product was peeling and cracking everywhere. I informed Keith and he immediately came out the next day to inspect the problems personally. He called me right away to tell me it was clear to him the men who he had performed the work 8 months ago did not listen to his instructions, and they applied the product improperly. Hence, the product failure. Within two days, he had another one of his men at my house to pressure wash all the old product off my deck, and then apply two new coats of the coating properly, all at no cost to me. It's remarkable to find a contractor who stands behind his work and word like Keith does. I'm very happy with my deck now. And I'm confident that if there are any other issues, Keith will resolve them.

Susan Landon
Equestrian Woods, Nicholasville

 

I contacted My Three Sons after hearing a glowing recommendation from a friend. After meeting with Keith and discussing my project, I did not seek other bids because I was so confident I had found the best company for my exterior painting/pressure washing/deck-oiling job. His crew was courteous and hard-working. They were interested in doing a top-notch job, and did not mind attending to small details. I enthusiastically recommend this company, and will be engaging them again for inside painting within the next 18 months.

Nan McSwain
Lexington

 

I am very please with the quality of the work done by My Three Sons Painting. The new paint looks great, and the job was done professionally, in a timely fashion, and at a reasonable price. Keith communicated with me often throughout the process to keep me informed of what work was scheduled and when the work would be done. I recommend My Three Sons to anyone for your painting needs. You won't be disappointed.

Ed Sergent
Southpoint, Lexington

 

Being unsatisfied after several attempts to paint our new construction dream home, we needed extensive repair and repainting of trim and walls. After much deliberation and meeting with several companies we decided to hire Keith and his crew. Keith's attention to detail in his initial assessment was extremely professional and thorough. Keith always kept to the agreed schedule and also offered important suggestions through the process that were much appreciated and helped to beautify the final product. It's rare to find a company that does what they claim and has such a high standard for client and crew. The whole process was enjoyable and educational for us. They performed beyond our expectations. It was well worth the time and money. My Three Sons will always be our first call for any of our painting needs. You won't be disappointed.

Matthew and Melissa Otto
Greenbrier Country Club, Lexington

 

This probably has to be the best company I've ever used. We were doing some renovations on the house, and they actually came when they were supposed to. They gave us a written estimate and followed through. They showed up on time, they staid late if necessary, and cleaned up better than it was before they started. When friends come in, they can't even believe it's the same place. They went above and beyond to help. Keith would even come back in the evenings to fix things his supervisor noticed needed to be fixed. He even fixed the flaws in my walls, he even re-did my sockets, and put in new light fixtures.

He also recommended paint for outside, and he also came back and did that work as well. He's become almost a friend, and I can't tell you how kind they were! They made it as pleasant as possible, and did everything possible to help!

The past companies we had used were a total nightmare, but My Three Sons is unbelievably excellent, and they're the hardest working people I've ever seen! I'd give them an A+ if I could!

George and Linda Allgeier
Cumberland Hills, Lexington

 

It was pleasure to return home for the holidays to a beautiful new interior of our entire house. True to your word, your company completed the repainting of our house with the utmost care and professionalism. As we were unable to be home during the project, we had to trust that you would take care of our home as if it were your own. Your company not only took particular care of our antique furniture and other valuables, but the concern for the well-being of our pets was evident by the careful observance of the closed off areas which kept our pets safe. We have to admit that we have exceptionally high standards for the quality of work in our house. Your company exceeded our expectations and we would be happy to recommend your company to anyone whose first requirement is quality. Thank you,

Gale Sessa & Wade Maguire
The Woods, Lexington
We desperately needed both the interior and exterior of our home painted before a large engagement party for our daughter and future son-in-law. We obtained detailed estimates from several painting contractors after face-to-face meetings with each to discuss our expectations for the job. My Three Sons Painting Co., while not providing the lowest estimate, was very competitive and impressed us with their knowledge, experience and ability to get right on the job. We couldn't have been happier with the final result. The job was done expertly, neatly and on time. There were a couple of items that needed further attention after the job was completed, and after full payment had been made. My Three Sons Painting came right back and got right on them to our satisfaction. The communication from the job supervisor and the company's desire to please was fabulous. We would recommend My Three Sons Painting to anyone that has a nice home and wants a first-class painting job. Thank you, My Three Sons Painting!

Mark David and Becky Goss
Windhaven, Lexington
We are delighted to write a word of recommendation for Keith Zafren and his company, My Three Sons Professional Painting. Keith often states that it is his desire to serve his customers and because of this attitude and commitment it is a pleasure to have Keith and his team in one's home. Keith treats both his customers and employees with utmost respect and gives individual attention to all the details of a job whether it is a large job or merely painting a mailbox. He is also respectful of time – making and keeping of appointments and in completing the task for which he was hired.

It is obvious that each member of My Three Sons Professional Painting takes pride in his work and the quality of the work surpasses excellence. They also take pride in the customer's home restoring any temporary and necessary disruptions and in making sure the work area is cleaned-up, looking as it did when they began the job.

We know you will be most pleased and satisfied when hiring My Three Sons Professional Painting.

Dr. Ellsworth and Mrs. Janet Kalas
Rabbit Run, Lexington
It is our pleasure to recommend My Three Sons Painting for any painting project, large or small. Keith was very professional in assessing what we needed in giving our large frame house an exterior "face-lift." He gave us a very reasonable estimate and timetable. He communicated positively with us frequently, and we were always easily able to work out solutions to situations as they arose. The painting crew was polite, cheerful, professional, and gave careful attention to detail. They always seemed to really care about doing an excellent job. The crew leader, in particular, was very experienced and always checked with us about any question before moving ahead. We are very pleased with our house and have had many wonderful compliments from others. We would work with My Three Sons Painting again in a heartbeat.

Jerry and Claudia Miller
Wilmore

 

Keith (the owner) and Scott (the foreman) and his crew were a pleasure to work with. They took extra care in the prep work, smoothing dry wall, fixing nail pops, and removing light fixtures. When issues arose, like needing an extra coat of paint because I chose a very dark color and it wasn't covering the white wall, Keith immediately communicated the issue and made arrangements to fix the problem. They totally transformed my house! Even my 4-year-old daughter said it looked like a new house. I would highly recommend this company to anyone! I have worked with other painters for other homes and none of them came close to the job My Three Sons Painting did.

Jesse and Amanda Palmer
Midway

 

I found My Three Sons on the Internet while looking for someone to repair water damage from a leaky roof. This repair was not just for painting – there was significant damage to the old lathing that old houses have. This damage was very significant particularly because it had occurred on a house built in 1908. My problem is that I am in Lexington only once a month and needed someone who was trust worthy and would do what they said they would do – without me there to supervise the works progress on a day-to-day basis. As one meets Keith, the owner, you can tell right away that he is a man of character and is honest. I saw the final results this past weekend while in Lexington and they are very nice. I highly recommend My Three Sons for any repair and painting needs you may have.

Tom and Susie Rubino
Lexington

 

My Three Sons Professional Painting came highly recommended to me by several neighbors and friends. The bid was accurate, the work was done as soon as my other contractors finished the exterior construction, and the painters were professional, efficient and kind. Keith and his whole crew were a pleasure to work with. My whole house looks just wonderful and I get great comments from neighbors on what a nice job they did.

Susan Parker Weatherford
Historic District, Lexington

 

I would like to recommend Keith Zafren and "My Three Sons Painting" for any painting job you have! I have used Mr. Zafren's company for multiple jobs on 4 different homes – both indoors and out – and have been overwhelmingly pleased with the quality of work and attention to detail. Most recently, I had a new fence built in my back yard and knew it would be beneficial to have it sealed, but was hesitant to spend any more money on it. However, after talking to several people, I realized it was worth the added expense to protect the investment I had already made in the fence and I am so glad that I did. As I was recently sitting by the pool & admiring how much nicer it looked, I realized how glad I am that I had it done because it will still be looking that nice for years to come! Keith has always been great to work with & I really appreciate how quickly he gets the job done and in particular, how neatly things are done along the way…there is never a mess left as the job is ongoing…everything is put up neatly at the end of the day and the job is completely cleaned up when done. That's the kind of professionalism and quality Keith has put into every job he has done for me. I wouldn't hesitate to recommend him to anyone!

Traci Caneer
Lexington

 

Keith, I would like this letter to be an expression of my gratitude for the outstanding work your company performed on my home. Your crew was friendly, professional and knowledgeable along with making that 2 weeks very comfortable for me and my son. This is the second time my family has used your company and we have been 100% completely satisfied with your work. It has been a wonderful experience getting to know you during this process and also having the true pleasure of meeting your son! Your communication was impeccable from start to finish and your crew always checked in with me when I was home before finishing for the day. Thank you for being a professional businessman and running a well-organized and effective painting company!

Jason Bizzack
Lexington

 

If you've ever built a new construction house, then you know of the challenges of working with sub-contractors who lack professionalism, courtesy, quality, and seem to have trouble either showing up when they promise or answering their phone when you call them. To our great joy, My Three Sons Painting was one of the few sub-contractors that worked on our house that we were grateful we hired. They scheduled their work with us in advance and actually showed up on time, they did exactly what they said they would do in the written contract/agreement signed before the job started, they performed their work with great care and quality, and they went the extra "mile" to make sure we were satisfied once the job was complete. My Three Sons Painting even came back and touched-up areas that the movers and other contractors messed up at no charge.  We can say with confidence that My Three Sons Painting is the painting contractor you will be glad you hired!

Mike and Lora Cuckler
Talbot Subdivision, Wilmore
Schedule a Consultation Now!
"We've used Keith and his team several times over the past two years and have been nothing but impressed." -Jennifer Buntin