What Happens When I Request My Free Painting Project Audit?
Step #1: We Respond Immediately By Phone or the Same Business Day Online
When you call our office, someone is available to take your painting project request 24-hours a day,
7-days a week. Go ahead and call right now and see! If you submit your information online, we
respond the same business day for all estimate requests made before 4:00 PM. Our office is closed
on Saturday and Sunday, but we will reply the next business day.
Step #2: We Conduct a Very Brief Pre-Project Survey to Better Understand Your Needs
When we speak with you on the phone to set a time that is convenient for you, we will ask you
handful of questions that allows us to better prepare for our visit with you on-site. At this time, we
will also mail and email you information that answers frequently asked questions about our
company and our unique painting processes. This helps you gather all the facts you need to make
the best possible decision about your painting project.
What Takes Place When My Project Consultant Arrives On-Site For My Painting Project Audit?
Step #1 - Overview
Your Project Consultant will give you a brief overview as a reminder of what will happen while he is
on your property. This lets you know exactly what will take place during your time together.
Step #2 - Survey Review
Your Project Consultant will review your project survey with you to make sure he completely
understands what you are hoping to accomplish with your project.
Step #3 - Project Audit
An audit will be conducted to determine the present condition of your home or business,
measurements will be taken, and alternatives provided for the best ways to achieve the outcome
you are looking for.
Step #4 - Preparation of Written Recommendations
Your Project Consultant will return to his vehicle to create a written recommendations document
for you on-site. While he does this, he will leave you with a Past Project Portfolio you can review.
Step #5 - Company and Painting Process Overview
Upon returning, your Project Consultant will quickly answer any questions you may have about
My Three sons Professional Painting, our people, painting products, or processes.
Step #6 - Presentation of Written Recommendations
At this point, we will thoroughly explain the scope of work required to achieve your desired
outcome and answer any questions you may have.
Step #7 - Determine Next Steps
This is where we assess any scheduling needs or special considerations your project may require
and put your project into the production calendar. An approximate start date will be provided.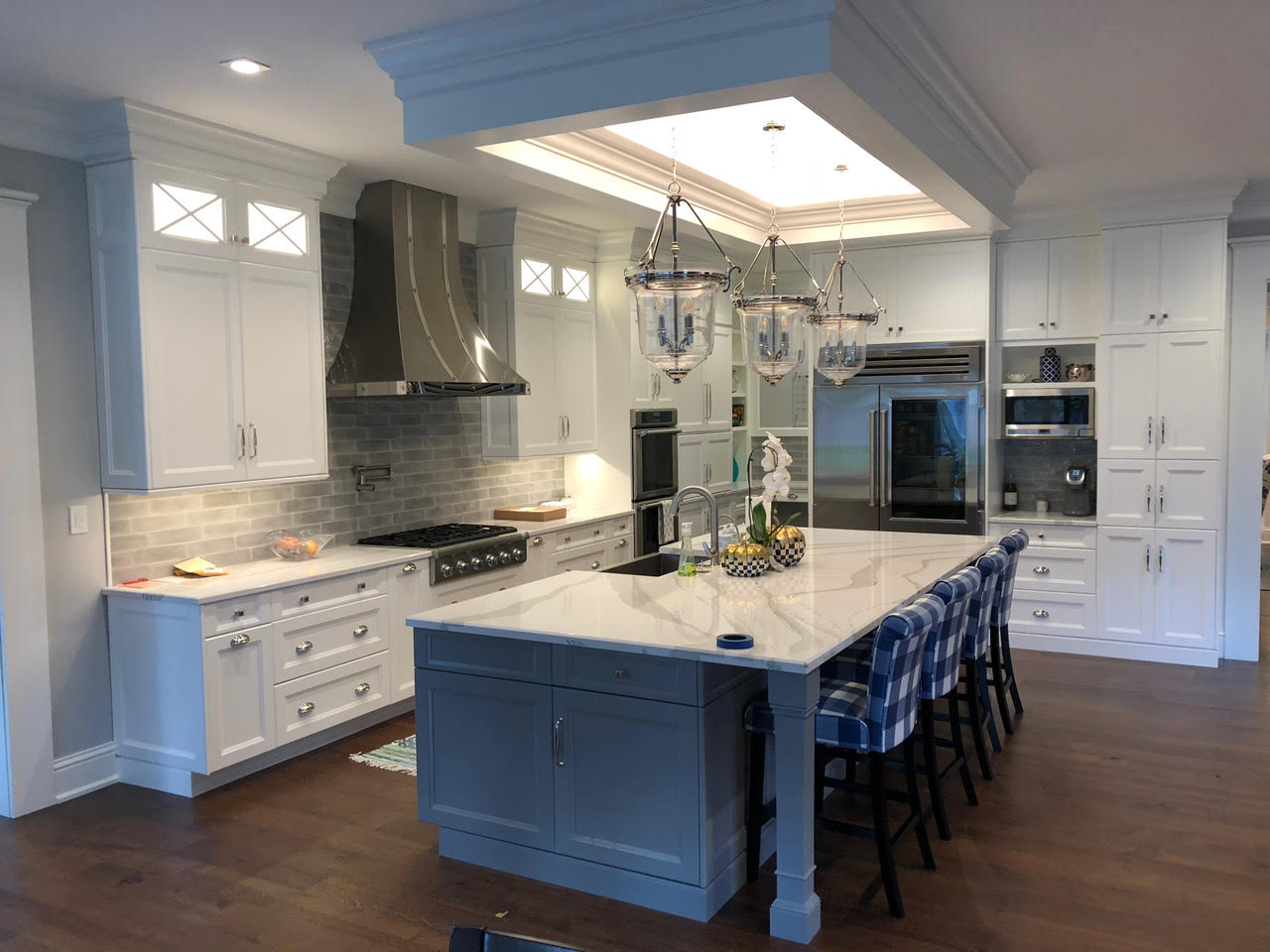 Gary Gaffield
17:10 15 Mar 18
I just had four rooms painted by My Three Sons and they did an incredible job. Quick, neat, careful, well organized,

conscientious, polite, always on time, and they did a beautiful job. I've never had a better experience with painters and have never had a project look so good. Travis, the crew leader, was always professional and a real pleasure to work with, the kind of person I was happy to trust with my home. Though they didn't submit the lowest bid, their price was very fair and very competitive and their thoroughness in assessing the job and preparing their estimate was impressive, head and shoulders above any of the others I called. It made it easy to choose them for the job. Keith, the owner, even helped pick out the colors.

read more
Nancy Olson
21:14 16 Jan 18
We are so pleased with the work performed by My Three Sons Professional Painting. They painted the entire interior of

our home and transformed our home. Travis and his crew were such a pleasure to have around, worked really hard, and cleaned up after themselves at the end of every work day. They certainly cared about doing a good job for us, and it was reflected in the finished product. During the middle of the project, we went out of town for a week. We felt very safe leaving them in our home knowing that they could be trusted with the keys to our home and that they would not cut corners on the job while we were away. Keith was so great to work with and followed up on every question or concern we had. We are happy that we chose My Three Sons Painting to do our job and will certainly call on them for any future painting projects we might have.

read more
Leigh Wells
19:34 15 Mar 18
My Three Sons Painting never lets us down. We recently had our kitchen cabinets redone. They took so much time

preparing them before painting and it shows. They turned out beautiful!! This was not the first time we have hired My Three Sons Painting and it definitely won't be the last!

read more
UK Rehab
14:45 29 Sep 17
I found My Three Sons online. They painted a door and frame, patched and painted a wall, and sanded, primed, and

painted an unfinished fireplace mantel. Keith, the owner, was amazing. He was always on time, detailed with his assessment of the project, explained everything thoroughly, and was in contact with me regularly throughout the process. Best of all, Keith was able to schedule me in for the NEXT DAY - a SATURDAY since my project was fairly small and he had an employee willing to work a weekend. Keith came over the day painting began and went over the to-do list with the painter personally. He brought all of the supplies needed and checked in with me each day to make sure I was satisfied with the work. If I contacted him with a question, I heard back from him within minutes. You couldn't ask for a nicer, more professional guy. I felt like he genuinely cared that I was not only happy with the work, but the entire experience. I also felt that they made my time and schedule a priority. Ben, the painter who did the work was great as well. He showed up when he said he would, worked efficiently, was very neat, and was very courteous and polite. He did a wonderful job. Based on the above, I really have no reason to look for another painting company. I trust My Three Sons and plan to use them for all of our painting needs in the future.

read more
Susan Parker Weatherford
10:09 01 Oct 17
My Three Sons Professional Painting came highly recommended to me by several neighbors and friends. The bid was

accurate, the work was done as soon as my other contractors finished the exterior construction, and the painters were professional, efficient and kind. Keith and his whole crew were a pleasure to work with. My entire house looks just wonderful and I get great comments all the time from neighbors about what a nice job they did! I would highly recommend My Three Sons Professional Painting for interior or exterior painting on your home.

read more
See All Reviews
What Do My Friends and Neighbors Have to Say About Little's Painting Company?
It is a pleasure for us to say this company did an amazing job on our project. Their capabilities far outweigh anything I could ever say about the quality of work performed. I highly recommend this company for any job no matter the size of the project.

-Allen and LoJean Varney, Tuscany, Hamburg
Professional all the way! The crew's appearance, conduct, painting skills, equipment all top notch; did what they said they would do and in the time frame. Would definitely use them again!
-Roger Woolums, Wilmore
I cannot say enough good things about My Three Sons Professional Painting Services. Keith Zafren and his crew did such an outstanding job for me that they will be my first call for any future projects I may have.
-Donald Clemons, Lexington
Who Owns My Three Sons Painting Company?
My Three Son's Painting Company is a family business. Pictured here is Keith and Lori, and the "three sons": Cal, Dave, and Kai.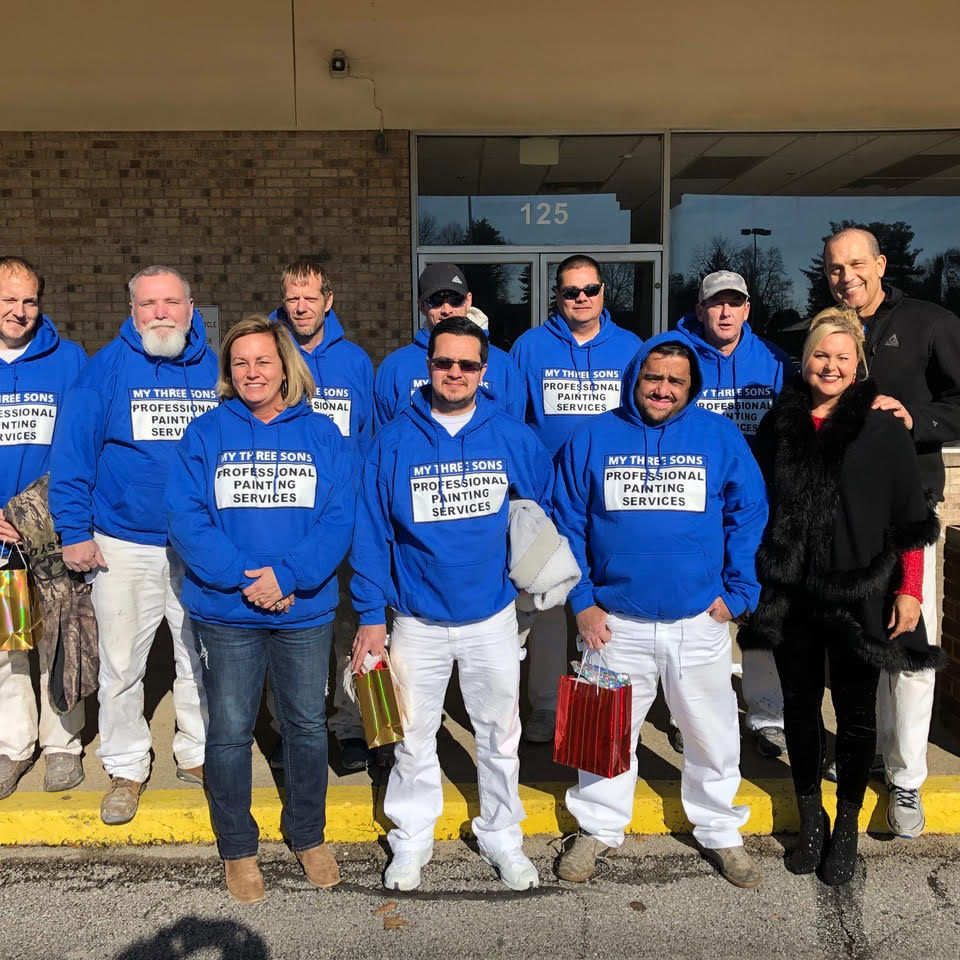 Who Will Manage My Project On A Daily Basis?
Pictured above are the painters and team leaders you will interact with directly.
Check Out Our Great Reviews!