Deck Staining vs. Deck Coating
Finally! A Neat, Thorough, Professional Painting Job... or Your Paint Is 100% FREE!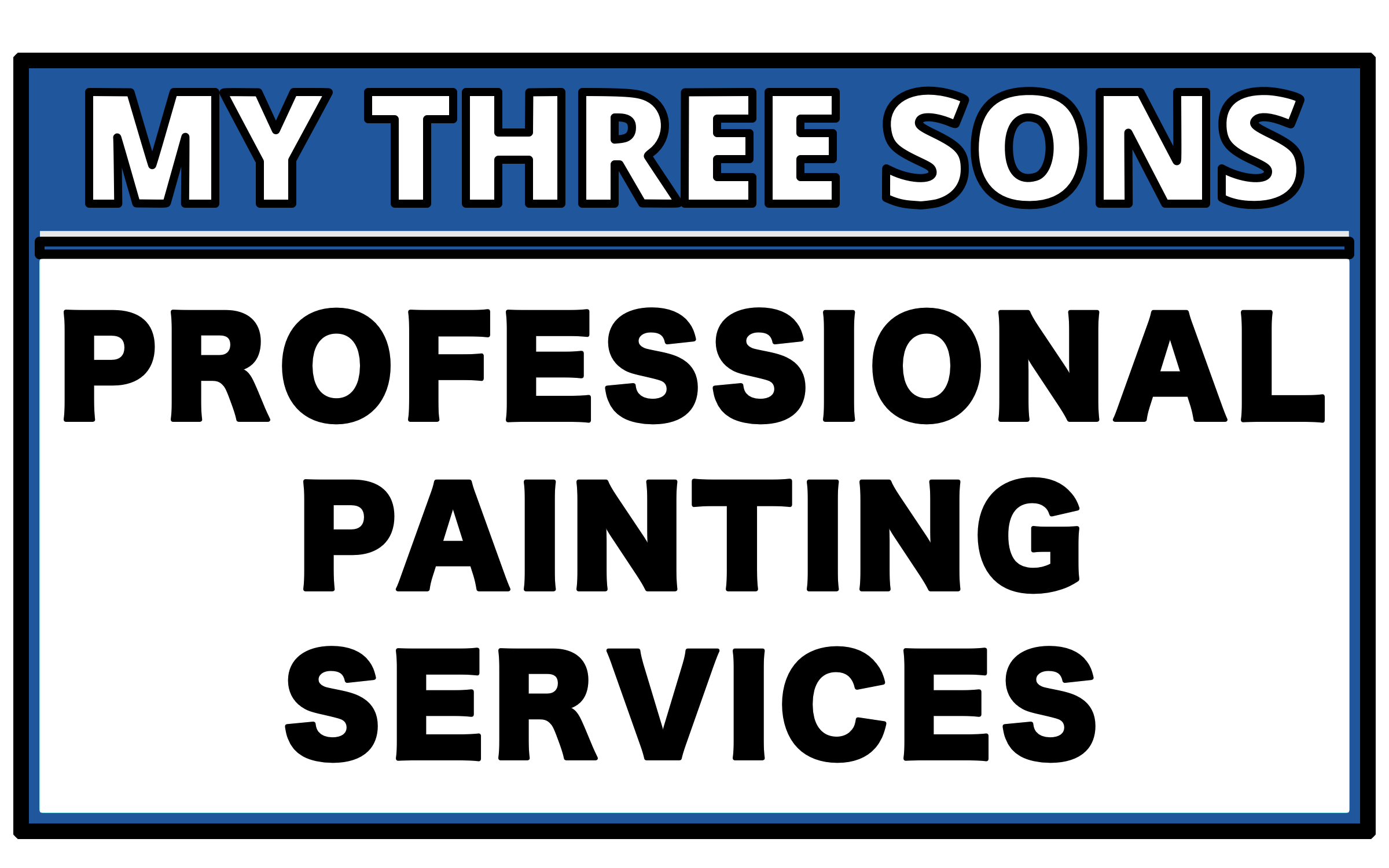 Call 859-321-7344 For Your Quote!
If you have a porch, deck, or pergola, even a wooden play structure, you know how much maintenance is required to keep it looking great, and preventing it from drying out, peeling, cracking, or rotting.
We have been applying stains to these structures for years, and we still do. About 2014, we began experimenting with a new product called Deck and Dock Elastomeric Coating. We've now become experts in applying this remarkable deck coating material. I'll tell you all about it in a moment. First, a little education about deck stains.
Water Sealers, Toners, IPE Oil, and Semi-Transparent Stains: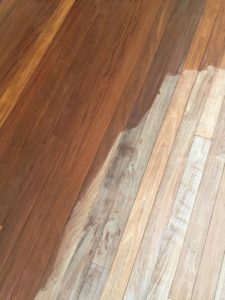 These four are all slightly different products from one another, but they can be grouped into one category because they all perform essentially the same function, and endure about the same amount of time (which, unfortunately, is not very long). Those who have new decks, or deck boards that are still in exceptionally good condition, or have specialty hardwood, are candidates for these materials. None of these materials contain much UV protection, which is why they only last about a year or so in our Kentucky weather before they have to be reapplied. But they do make the wood look gorgeous, for a short while. Those committed to persevering the look of real wood, seeing all the grain, and desire the new look of a beautifully treated deck, this is what you want to have done to your deck.
Semi-Solid and Solid-Color Stains:
Both of these stain products have more UV protection than the four mentioned above. Solid Color Stain has more protection than Semi-Solid, and thus both of these products look better and last longer than the first category of sealers, toners, and oils.
A Semi-Solid Stain should last 2-3 years in our weather. Solid-Color Stain will last 3-4 years, typically. Both look thicker than the first category of finishes, though both still allow you to see the wood patterns, Semi-Solid more so than Solid-Color.
The first picture on the left is an example of the first coat of Solid-Color Stain being applied. The second picture on the right is of a deck done in Solid-Color Stain in two colors. Two coats have been applied to this deck already.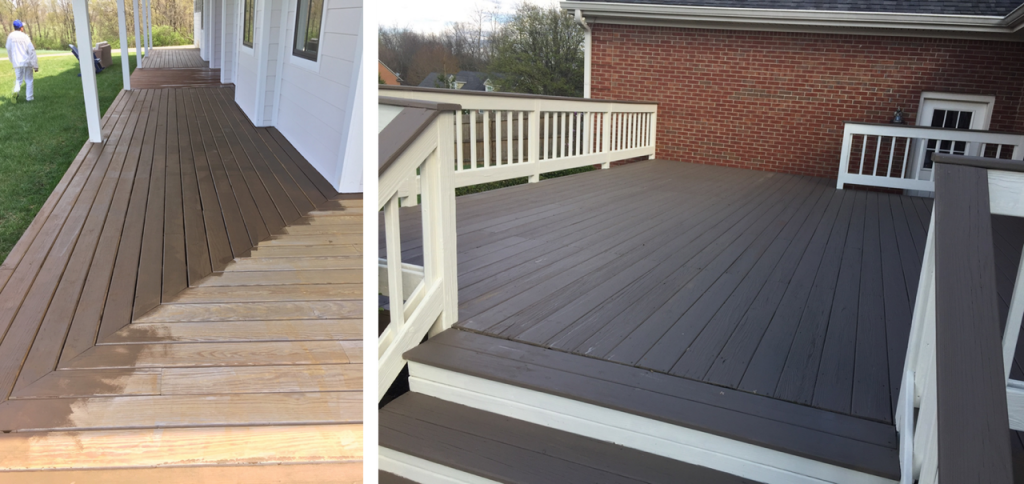 Elastomeric Coating:
A newer, chemically-engineered product we started using in 2014 is a product designed for decks, concrete, and docks. It's called Deck and Dock Elastomeric Coating. Unlike all the products mentioned so far in the post which soak into the wood, and have to be re-applied every year to every 2-4 years, depending on the amount of UV protection in the product, Elastomeric Coating does not soak into the wood, it coats it. Therefore, the wood is not subject to the elements of water, sun, and snow the way decks treated with toners, oil, or stains are. The wood is completely coated, and therefore protect for many years to come. In fact, when properly applied, an elastomeric coating should outlast even a Solid-Color Stain by three times as long (7-9 years before needing to be reapplied).
Thus, the labor savings is fantastic!
However, the product is more expensive. It's not much more expensive per gallon, but you have to purchase three times as much. A regular toner, oil, sealer, or stain is applied at about 1.5 to 2 mils thick. Deck and Dock must be applied at 5 mils per coat for the chemicals to bond and cure properly, and to provide the long-lasting, beautiful finish that restores even badly weathered or damaged decks.
Stains cover approximately 300 square feet of deck. Deck and Dock has to be applied at a thickness that only allow 100 square feet of coverage. Thus, it is about 3 times more expensive for the product than stain, but the cost-savings on labor (not having to reapply it every 2-4 years) is a huge, long-term savings.
There is no doubt in my mind that if it were my deck, I would apply the Deck and Dock Elastomeric Coating. Here are some pictures of decks we have recently coating with this tremendous product.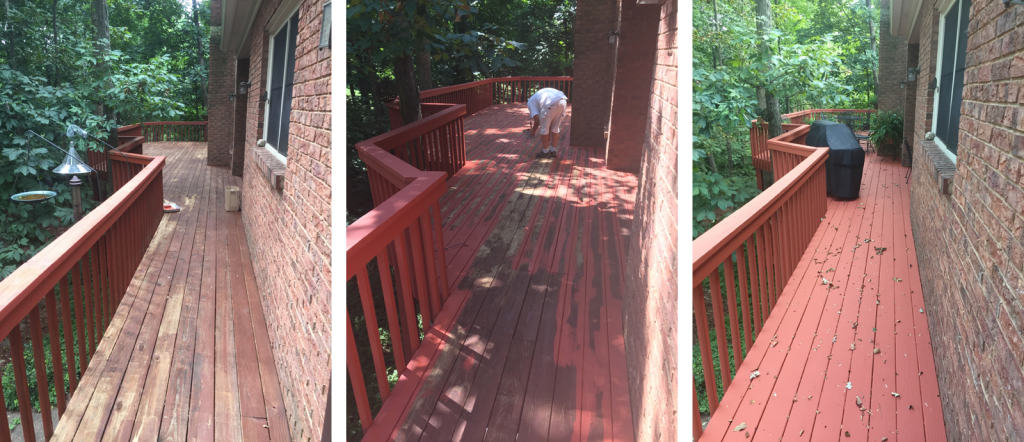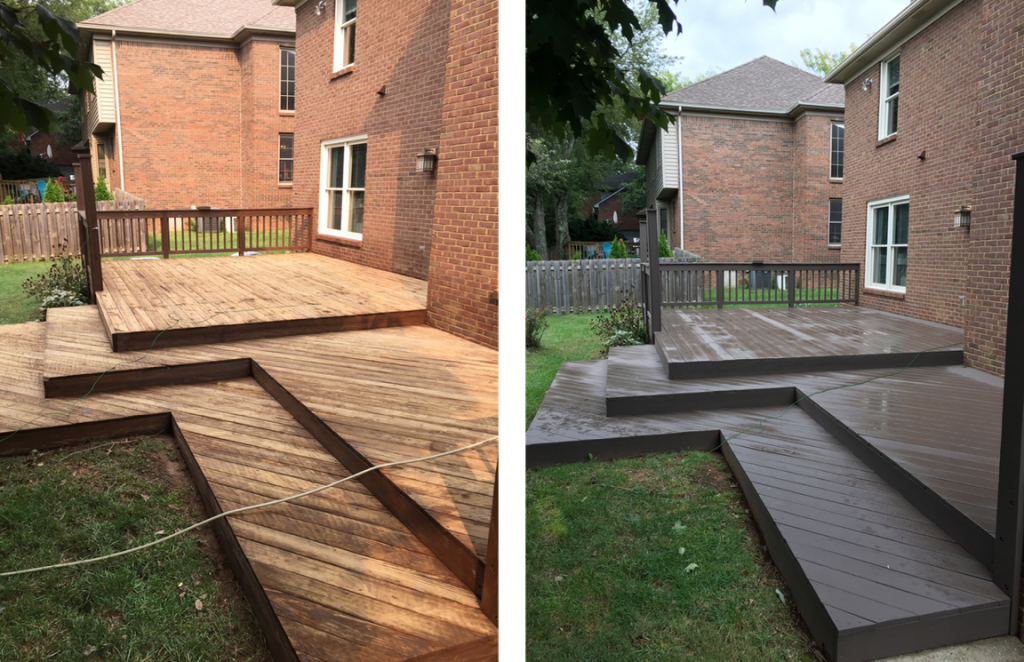 The Elastomeric Coating now comes in every color stains are made in, so there is a wide variety of colors you can choose from.
Trex Composite Deck Material
Although Trex is marketed to the homeowner as a life-long product, we've seen plenty of 8-10 year old decks that have faded badly. Supposedly, the company that makes Trex has now resolved this problem, but anyone who has an existing Trex deck can expect it to fade and get blotchy over time. Deck and Dock Elastomeric Coating will adhere even to Trex (where stains and paints will not). And it restores a Trex deck to look like new. See the before (on the left) and after (on the right) pictures below.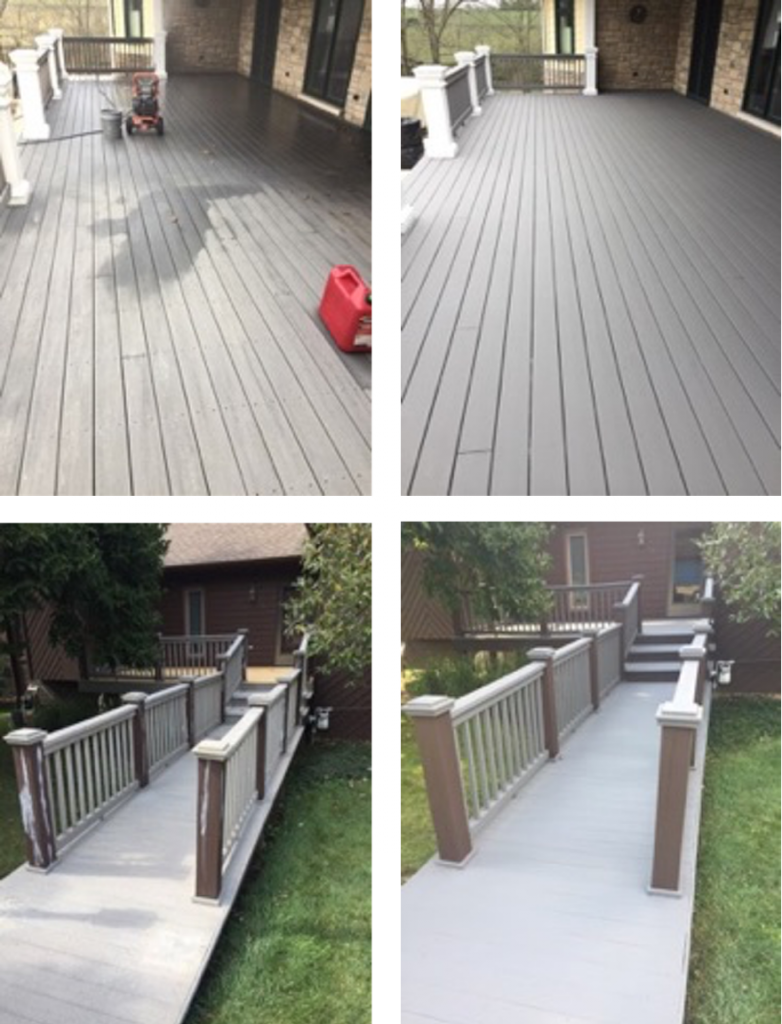 Replacement boards, railings, and pergola joists
Just to let you know, we also specialize in replacing rotted boards as needed before we applying the product of your choice.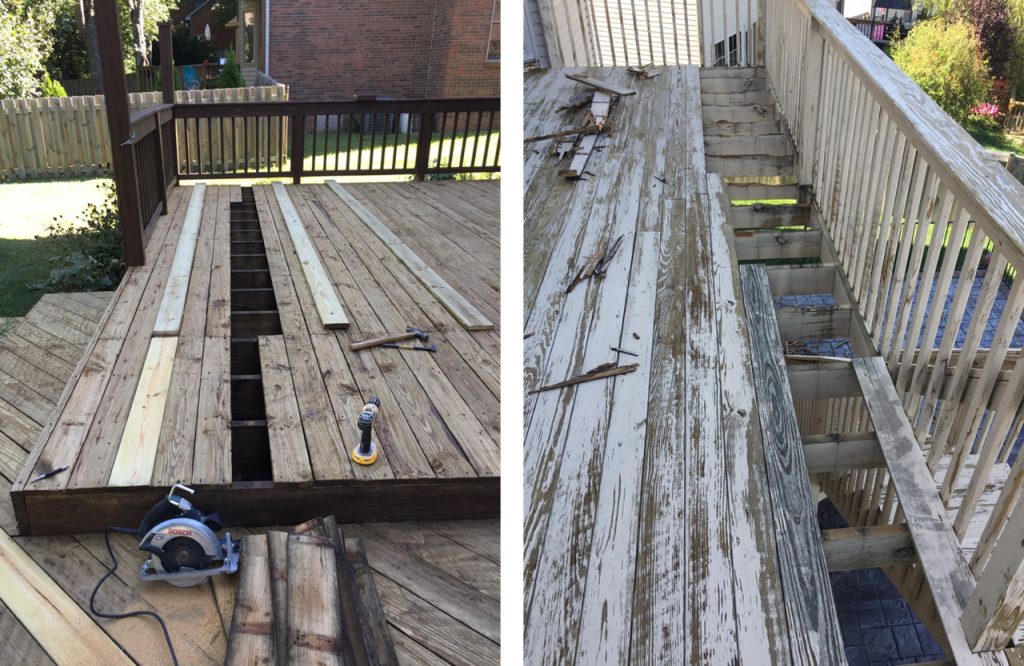 Conclusion:
I wrote this post to educate you about the different products on the market today for treating your deck, pergola, porch, or even your children's play structure. Yes, we do those too!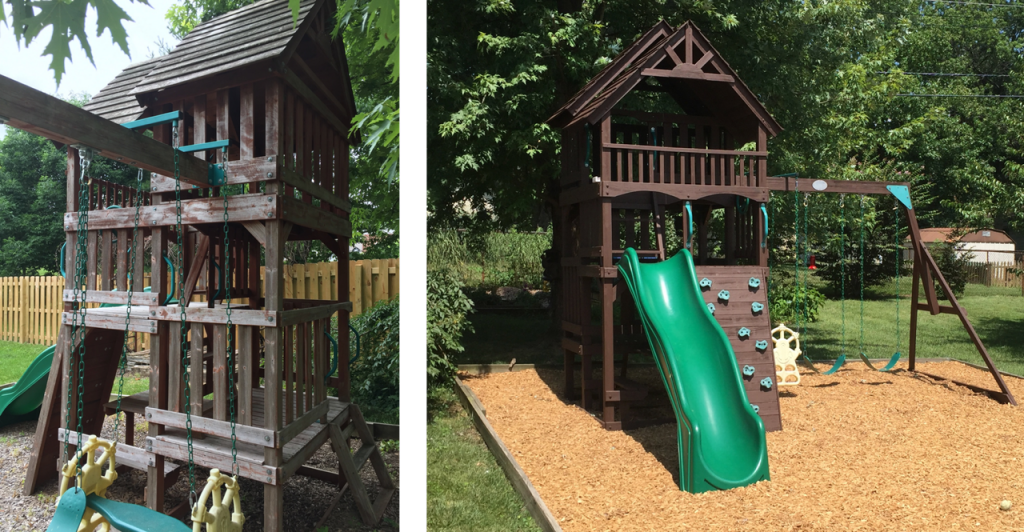 One of the other amazing benefits of the Deck and Dock Elastomeric Coating is that it can be applied to a newly built deck, or new replacement boards. It is always recommended to wait at least 6 months, and even better, a year, before applying a stain (or any product that will soak into the wood) to new, treated lumber. However, because the Elastomeric Coating coats the wood and does not soak into it, it can be applied right away.
However, whether you use a toner, sealer, stain, or coating, never apply the product to the underside of your deck. This is how the deck breathes and dries. We recently treated a deck that had rotted right through after only two years because someone stained the underside of the deck, and the moisture had no way to escape. It rotted the deck to ruin.
If you would like me to come take a look at your staining or coating needs, please reach out to me at 859-321-7344, or email me at keith@mythreesons.net. I look forward to speaking with you soon, and serving you any way I can.
* All photos used in this post are from actual projects we have completed.
Schedule a Consultation Now!
"We've used Keith and his team several times over the past two years and have been nothing but impressed." -Jennifer Buntin